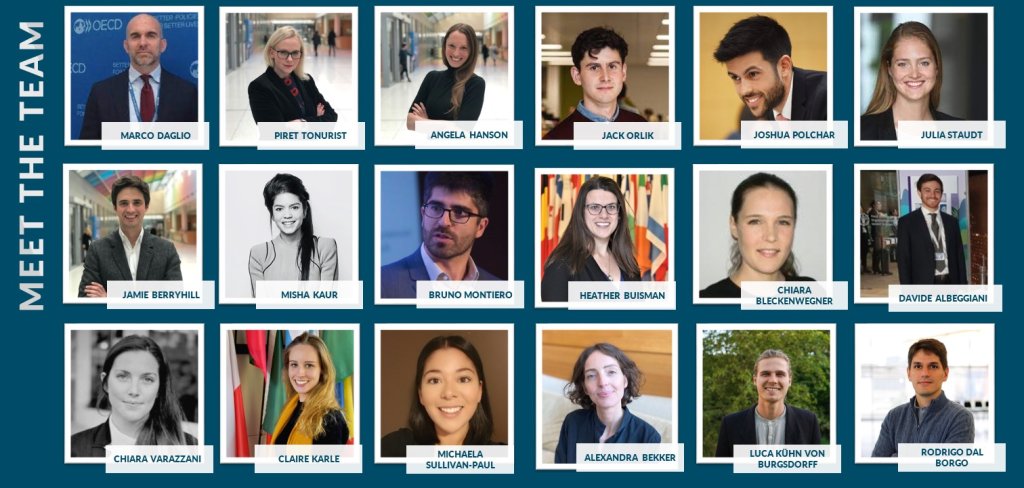 What we do
We uncover emerging practice and identify what's next, turn the new into the normal and provide trusted advice. We take a multi-level focus and our portfolio spans across individual, organisation, and system levels. We tailor our approach based on our partners' contexts and needs.
The dimensions of our work include:
Uncovering emerging practice and identify what's next, including:

Knowledge creation and learning enhancement
Innovation and technology trend-spotting
Empirics-led research

Turning the new into the normal:

Frameworks, skills, and methods diffusion
Convening networks of innovators
Global case study, tool, and community management

Providing trusted advice

Custom transformation strategies
Methods, skills and tools
Reviews and evaluation
Who we work with
Our partners are innovators everywhere: in government, academia, global NGOs and civil society, and industry. We connect with leaders and practitioners alike, based on their emergent needs and where we can best add value. Our partners are our collaborators; we take risks with them so that we can continue pushing the boundaries in this evolving area of research and practice. Are you ready to make change?
Who we are
The Observatory for Public Sector Innovation (OPSI) is a global forum for public sector innovation. In a time of increasing complexity, rapidly changing demands and considerable fiscal pressures, governments need to understand, test and embed new ways of doing things.
OPSI works with governments to understand and encourage new approaches to address society's complex problems by empowering public servants with new insights, knowledge, tools and connections to help them explore new possibilities.
We value curiosity, understanding of people's needs, a systems perspective and openness to new opportunities. From our innovation specialists' first-hand experience working in government, we know that an innovative public sector makes better policy, builds constructive partnerships and delivers better outcomes.
Since 2013, we have built our strong reputation on our expertise in global trends, sustainable development goals (SDGs), transformative technology impact, public sector innovation systems, and innovation skills, processes, and methods. Our team connects and convenes innovators world-wide and directly advises leaders of public sector innovation in OECD member countries and beyond.
Marco Daglio is the Deputy Head of the Open and Innovation Government Division and Head of OPSI, a flagship initiative of the OECD to support and advice governments in making the most of innovative approaches to transform their public sector. Previously, he was Head of Unit in charge of public service delivery and public engagement. His last edited study "Promoting Innovation in the Public Sector" looks at the combined role of regulations, budget mechanisms, human resource management and organizational change to create space for innovation in the public sector. From 2005 to 2009, Marco has worked on several policy analyst positions at the OECD on digital government, fight against corruption, access to information and open government. Marco is a volley enthusiast (less so after spraining his ankle) and Juventus supporter. He can be found on Twitter at @DaglioM.
Davide Albeggiani
is a consultant at OPSI. He works primarily on the Global Innovation Trends Report and on cross-border collaboration and innovation. Prior to moving to Paris, Davide worked in the climate and biodiversity department of the United Nations' Food and Agriculture Organization, focusing on genetic resources and biodiversity conservation. He has a strong passion for public policy and for the way governments can innovate and collaborate to find solutions to global issue. Davide holds a master's degree in Public Policy and Politics from Sciences Po and a bachelor's degree in Philosophy, Politics and Economics from the University of Exeter in the UK. He can be found on
Linkedin
.
Alexandra Bekker is an intern at OPSI, working on systemic capacity and mission-oriented innovation. She previously worked as a consultant and strategist on a wide portfolio of social innovation projects in Europe, Asia, and Africa for both nonprofits and governments. Her work leverages strategic design, systems thinking, and cross-sector collaboration. Alexandra is currently pursuing a graduate degree in Strategic Design and Management at Parsons School of Design in NYC, and she has a MA is Human Rights and Humanitarian Action from Sciences Po and a LLM in Law and Politics of International Security from VU University Amsterdam. She can be found on LinkedIn.
Jamie Berryhill
is an Innovation Specialist at OPSI. His work includes
surfacing and tracking innovation trends
and conducting research on the intersection of innovation and digital government. Most recently, he co-authored a
Blockchain guide
and case studies for public servants. Prior to joining OECD, Jamie worked for the White House Office of Management and Budget (OMB) as the Chief of Policy for the United States Chief Information Officer. His portfolio included restructuring technology governance in agencies, devising new funding mechanisms for tech modernisation, and providing transparency through open data and open source policies and approaches. Prior to OMB, Jamie worked for the U.S. Government Accountability Office (GAO) to provide the U.S. Congress with data-driven reviews of fraud and abuse in government programs.
Chiara Bleckenwegner works on mission-oriented innovation, innovation portfolios and the future of public sector employment at OPSI. She works with innovation labs, local and national governments to understand and implement innovation policy management. Prior to joining the Observatory, Chiara worked as a management consultant across Europe and South Africa. She focussed on people and digital transformations in the private sector and has experience delivering Future of Work strategies, user experience projects, organisation and process design, and technology implementations. She is passionate about mission-oriented and public value-driven transformation in the public sector. Chiara holds an MPA in Innovation, Public Policy and Public Value from the Institute for Innovation and Public Purpose at the University College London.
Heather Buisman is an Innovation Analyst with OPSI focused on innovation capacity building within public sector systems, innovation scans, the innovation declaration and stakeholder engagement. Heather is passionate about fostering cross-sectoral, intergovernmental and interdepartmental collaboration to find innovative solutions to complex policy challenges. Prior to joining OPSI, she worked in various capacities within the Government of Canada, focusing particularly on innovation, Gender Based Analysis + and diversity and inclusion across numerous departments. Heather studied Defence and Security Policy, focusing on allied interoperability and diversity and inclusion in military recruitment and retention.
Rodrigo Dal Borgo is an intern at OPSI working on Anticipatory Innovation Governance. As a Marie Skłodowska-Curie COFUND fellow and research assistant at the Centre for Applied Ethics, University of Deusto, he is currently completing a Ph.D. framed within the topic of promoting ethical culture in multinational companies. He has used scenario planning and systems thinking to understand the dynamics of corporate cultural change, to diagnose disruptions that could impact organizational ethics and to mobilize and align stakeholders. This research has given him practical opportunities to interconnect academia with industry with a secondment to a multinational electric utility, as an assistant researcher and visiting PhD at Saïd Business School, University of Oxford, and a coordinating position in a knowledge-transfer community on business ethics in the Basque Country. He also provides strategic foresight/scenario planning training and advisory to companies and organizations in the Basque Country. In Sao Paulo, Brazil, he worked as a journalist and later moved to Europe where he received an M.A. in international relations and diplomacy. He can be found via LinkedIn.
Angela Hanson is an Innovation Specialist at OPSI. She leads work around innovation methods, tools, and capacity-building. She is also the lead of the OPSI Toolkit Navigator, which guides public servants and policymakers toward resources relevant for their innovation portfolio and approach. Angela has been a public servant since she was born and has worked in multi-level administrations in the United States. Just prior to joining the OECD, Angela worked in the Office of Innovation at the City of Austin, Texas, where she focused on project-based capacity building, innovation challenges and prizes, Smart Cites ecosystem building, and innovative project teaming and resourcing. Prior to that, she served as the appointed Officer of Urban Forestry and Green Infrastructure for Austin, where she led multi-disciplinary teams for policy and strategic planning efforts. She has a passion for urban systems, narrative-based research and interventions, mountains, natural co-evolution, and psychogeography. She can be found on Twitter at @CivicCatalyst.
Claire Karle is a Communication Officer at OPSI with a passion for science, technology and development related topics. She has worked for a number of international, non-governmental and private sector organisations in the areas of strategic communications and outreach, event planning and coordination and corporate branding. Prior to joining OPSI, she worked as a Communication Consultant with the International Atomic Energy Agency (IAEA) on promoting the contribution of nuclear science and technology to meeting development priorities and the Sustainable Development Goals. Claire holds a BA in International Relations from QM, University of London, and a MPhil in Development Studies from the University of Cambridge. She can be found via LinkedIn and Twitter @ClaireKarle.
Misha Kaur is an innovation specialist at OPSI, currently working on extending the Declaration on Public Sector Innovation, systems approaches as a way of dealing with complex issues and surfacing insights on how to embed innovation into public sector ecosystems. Prior to joining the OECD, Misha was a Senior Executive in the Commonwealth Government of Australia where she leveraged contemporary and innovative practices to work on major reforms such as Australia's COVID-19 measures and social policies such as family safety and drug and alcohol use.  Misha has also designed and embedded new approach to dealing with complex issues in the Australian Taxation Office, called systems led design, which draws on systems thinking, design and behavioural insights. Misha holds a Master's in Public Policy and Management from Monash University, Australia and is currently undertaking her doctoral degree in the use of systems thinking and design for public policy.  Misha is most passionate about rethinking the way governments can work to foster even better societies.
Bruno Monteiro is Policy Analyst at OPSI. He was the coordinator of the Experimentation Lab for Public Administration (LabX), a safe space for researching, co-creating and testing innovative public services. Among LabX portfolio, there are solutions that touch on the (re)design of citizen-centric services, the experimentation with human-centered technologies, the measurement of innovation or innovative ways of citizen participation. Among other engagements, he was point of contact for the Open Government Partnership (OGP) and the Observatory of Public Sector Innovation (OPSI), besides being co-chair of the Digital Democracy Thematic Group (eLeaders). He holds a PhD and a MA in Sociology from the University of Porto. He was a research fellow in the Institute of Sociology (Porto), to whose board he belonged to, being awarded doctoral and post-doctoral fellowships from the National Foundation for Science and Technology. You can found him through LinkedIn.
Jack Orlik is an Innovation Specialist at OPSI, working primarily on Anticipatory Innovation Governance. Jack's career began in the private sector, where he worked as an innovation consultant for multi-national businesses in social media and technology. An interest in policy led him to work at Nesta, the UK innovation foundation, where he facilitated a policy design programme for public servants in Nordic and Benelux countries, fostered networks and support for the implementation of data-driven and collective intelligence approaches for skills anticipation, and led research and evaluation for a £5.75 million project in partnership with the UK government to stimulate labour market innovation. Jack has an MSc in Digital Anthropology from UCL, a BA in Archaeology and Anthropology from Oxford University, and once co-authored an illustrated social history of Techno music. His Twitter profile is @jackorlik.
Josh Polchar is a strategic foresight practitioner and facilitation and engagement designer at OPSI. With experience working with dozens of governments and international organisations, he designs and delivers interventions and processes to build anticipatory capacity in a range of settings. Josh is an alumnus and former facilitator of the Oxford Scenarios Programme as well as a lecturer on the Disrupted Futures course at EM Lyon business school. Josh has co-authored works on strategic foresight for policy making in a range of publications. Prior to joining OPSI, he worked in the Office of the Secretary General at the OECD, which he joined from The Hague Centre for Strategic Studies. Josh holds an MSc in Political Science from the University of Amsterdam. His Twitter profile is @jpolchar.
Michaela Sullivan-Paul is an intern with OPSI. Michaela is a Canadian born student currently pursuing a Master's degree in Public and International Policy in a dual degree program between Sciences Po, Paris and the University of Tokyo. Currently working for the BI team, she hopes to continue pursuing the ethical application of BI in public policy, particularly in the field of digital innovation and economy.
Dr. Piret Tõnurist leads the work on systems thinking, innovation measurement and anticipatory governance at OPSI. She coordinates OPSI's work on transformative innovations, innovation theory development and works directly with OECD member countries on their complex problems. Piret holds a research fellowship at the Ragnar Nurkse Department of Innovation and Governance, TalTech and she conducts research on a variety of topics such as innovation labs, co-production, digitalisation, machine-to-machine coordination and innovation policy management. She has previously advised the Parliament of Estonia and worked as a performance auditor for the State Audit Office in the field of innovation and entrepreneurial policy. She is an active proponent of purpose-driven change in the public sector and has collaborated with different governments, state-owned enterprises and innovation labs across the world. Piret holds a PhD and MA from TalTech in technology governance and MSc from KU Leuven in policy evaluation. She can be found on Twitter at @PiretTonurist.
Collaborate with Us
The OPSI collaborates with researchers and organisations on topics of mutual interest and occasionally supplements our team's expertise on projects requiring specific knowledge or specialties. OPSI accepts spontaneous indication of interest to join the team either as interns (3–6-month terms) or external collaborators for limited terms on specific topics and projects. Indicate your interest below in interning or collaborating with our team. This is not an official OECD staff recruitment application form—you will find that by visiting this page.
Please note, due to high interest we may contact only those parties which are most aligned to our project and research at the current time.